Pre-Conference Training Details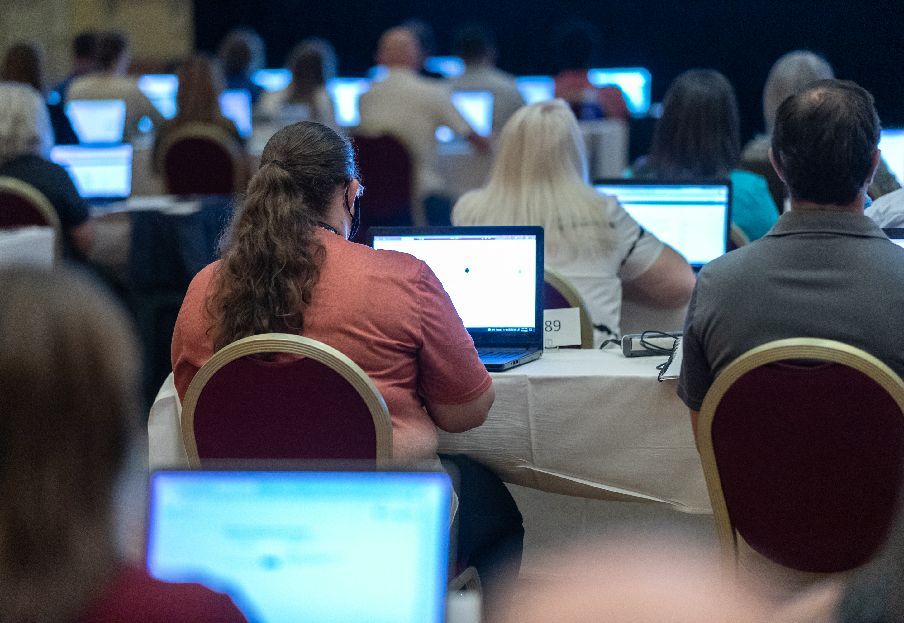 Trainer Responsibilities
Notify Texas Cyber Trainings immediately if you cannot deliver your training class, and share the costs of cancellation 50/50.
Provide any student course material you would like us to print 30 days in advance of the training class.
Verify that students are present in your class, and mark absent one that no-show.
Distribute Texas Cyber Trainings certificates of completion to students at the end of the course.
Help improve Texas Cyber Trainings by distributing and collecting student feedback forms.
Trainers are responsible for their own travel, food, and hotel expenses.
Trainers are responsible for abiding by the Texas Cyber Trainings Code of Conduct:
Submit appropriate tax paperwork for Texas Cyber to pay you. (W9, 1099)
Determine minimum number of students for your class to be financially successful.
Determine the maximum class size you can effectively train.
Have the legal rights to your course materials that do not violate the rights of others, and contains no illegal material.
No 3rd party marketing or advertising material is allowed in your course materials or classroom.
Texas Cyber Trainings Responsibilities
Promote the class.
Collect payment, handle refunds, answer questions.
Keep the trainer up to date on current class registrations.
Produce student materials, guides, Cards and other items
If the class does not meet the minimum number of students to be financially viable 30 days in advance, Texas Cyber Trainings and the Trainer will discuss options before Texas Cyber Trainings decides to cancel the class or not.
Provide trainer any feedback we have received.
Pay the trainer net 45.
Training Materials as required
Trainers retain ownership and copyright of all course material, and grants Texas Cyber Trainings permission to reproduce such work for promotion and the creation of student materials, including notes, workbooks, etc.
TCS 2023 Call for Training Form:
Name of training Class:
Name of Company (if any):
Full name of trainer(s):
Preferred pronouns:
E-mail address(s):
PGP or S/MIME key URL if you wish encrypted correspondence:
Mailing address:
Cell phone number(s):
Trainer(s) bio:
Trainer(s) social media links:
Training information:
Have you taught this training before? Where and when?
Do you have links to sites that promoted your past training so we can better understand how you presented it to the public?
Minimum number of students per class you need to be financially successful?
Maximum number of students per class you can successfully train?
Will you need TCS Trainings to print class handouts?
Short description of your class used for the web site and to promote your class: What is the topic? How advanced or difficult is the material? Describe the skills or knowledge will the student have learned after completing the class:
Outline the class in enough detail that we can determine the hour-by-hour experience a student will experience:
Technical difficulty of the class (Beginner, Intermediate, Advanced) and any required experience or skills needed (Such as Python, knowledge of specific deep-learning algorithms, TCP dump analysis, Ghidra, etc.)
Suggested prerequisites for the class. What should the student have read or prepared in advance to get the most out of your class? This could be videos to watch, books or white papers to read, etc.
Items students will need to provide. What tools, systems, or equipment is required for the student to take the training?
Will you test the students at the end of the class to see if they have learned the skills you were teaching (Demonstration of skill)? If yes then TCS Trainings can produce a certificate for students.
Note: Please make sure to highlight anything that makes your class different, Awesome, Bleeding Edge or what new concepts it includes to help us differentiate it from any others we may review with a similar topic.
Do you have Questions? Just ask! If we have questions, we will contact you based on the information you provide.
Trainer substitutions:
There will be no trainer substitutions without prior documented consent.
Code of Conduct:
While representing Texas Cyber Training, Inc., you agree to abide by our Code of Conduct:
Event Accommodations:
TCS will provide event space, signage, printed training materials, wireless internet (wired for the instructor if required) projectors, screens and power strips. All training materials must be submitted 30 days in advance of the class. Trainers will provide all other needed equipment.
Trainer class cancellation:
In the event of the trainer being unable to teach the class the trainer will compensate Texas Cyber Trainings for losses related to the cancellation such as refunds to attendees, service charges, cost of printed materials, marketing costs, etc. TCS Trainings will do its best to minimize these costs through equipment rental re-use, negotiations, etc.
In the event of Texas Cyber Trainings has to cancel the class then Texas Cyber Trainings will reimburse the trainer any non-refundable airline and hotel fees, material production costs, and expect the trainer to try and minimize their costs.
In the unlikely event of force majeure, unforeseen emergencies, or other acts outside of our control force Texas Cyber to cancel the training event entirely then Texas Cyber and the trainer will cover their own cancellation costs.
Trainer payment:
Texas Cyber will make payment net 45 from the last day of the training, with the gross training class revenue calculated on the total number of paid students. Payment will be in the form of a check if domestic or if international a wire transfer. In the event an attendee requests a refund, after mitigating the request, that amount with be subtracted from the payment due, a true up accounting summary will be sent to the trainer.