Security Analytics + Human Intelligence
Superior detection, unmatched response, and architecture that's open without compromise. Get stronger security with the highest ROI.
Cloud-Native Open Platform
Taegis processes and correlates over 470 billion events per day to detect and prioritize your most serious threats.
In the Fight With You
Work with Security Operations Teams that triage, investigate, and respond for thousands of customers each year.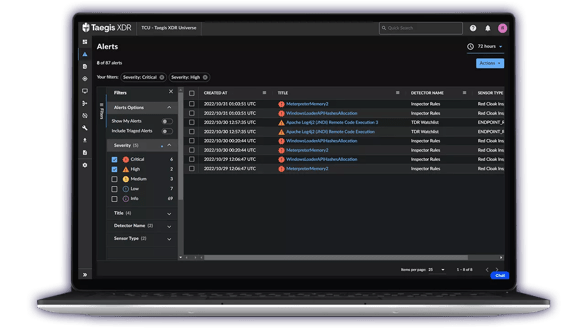 Managed Detection & Response
Unleash superior detection and unmatched response with Secureworks Taegis™ ManagedXDR, a fully managed cybersecurity solution that combines an open, powerful platform with extensive security expertise for 24/7 protection.
Extended Detection and Response
Secureworks Taegis™ XDR offers superior detection, unmatched response and an open platform built from the ground up to integrate market-leading technologies and deliver the highest ROI.
Identify Elusive Threats
Taegis Managed XDR Elite puts the spotlight on threats that bypass traditional detection methods
Reduce Dwell Time
Cut down the time to detect threats with continuous threat hunting, combining thorough scanning and human expertise.
Gain a Trusted Partner
Add threat hunting experience to your team via a designated Secureworks resource with knowledge of your environment and priorities.